Links
By Lindisfarne CD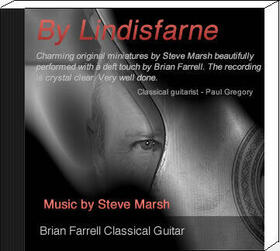 One of Ireland's leading guitarists, Brian Farrell, has devoted his latest CD to some of the compositions of Steve Marsh. Titled 'By Lindisfarne – The Music of Steve Marsh' the programme ranges from a few of Steve's earliest works written in the 1980's through to some of his latest ones – including the title track – written in 2014.

Tracks include the 4 movement Callanish Suite, the 7 movement Derbyshire Suite, Nine Micro Studies, Circle's End, Saudade and By Lindisfarne.

World-renowned classical guitarist Paul Gregory writes of the album: "Charming original miniatures by Steve Marsh, beautifully performed with a deft touch by Brian Farrell. The recording is crystal clear. Very well done."

From guitar legend, Gordon Giltrap: "It has been my pleasure to know the guitarist/composer/teacher Steve Marsh as a friend and my music book publisher for many years. We have shared the stage on a number of occasions and I even played on an album track of his many years back when he was recording an album with the singer Judy Dunlop.

I knew Steve had composed and published many solo pieces for classical guitar over the years, along with numerous pieces for various guitar ensembles, but it was only when I heard the pieces performed superbly by Brian Farrell on the 'BY LINDISFARNE' album that I understood the true magnitude of the man's composing skills.

Each track is a gem, and like most albums I have my favourite tracks, but with this collection it is truly hard to chose, so to that end I shan't and just say what a fine album this is. Brilliantly performed and recorded, this is a 'must have' album if you like fine modern guitar compositions for the 21st century."

You can read more about Brian Farrell and buy the CD here.