Three Guitars : Tony Rowden and Gary Spolding
Easy Ensembles vol. 2 arr. Gary Spolding and Tony Rowden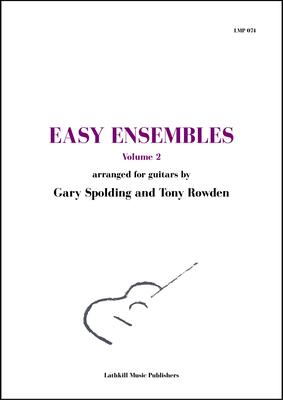 Easy Ensembles
arranged by
Gary Spolding
and
Tony Rowden
is a collection of 'fun to play and effective to listen to' ensemble arrangements and compositions in two graded volumes. This
Volume 2
is aimed at the Grade 1 to Grade 2 group. Some pieces are scored in 3 guitar parts and others in 4 parts.
Each piece can be played one person to a part or can be shared amongst a larger group with effective doubling on the melody or to give more security to less confident individuals.
Titles are: The Ash Grove (Traditional); See, the Conquering Hero Comes (Handel); Buffens (Estree); O Little Town of Bethlehem (Redner); La Primavera (Vivaldi); My Grandfather's Clock (Work); The Fair (Traditional); English Country Garden (Traditional); Gavotte (Handel); Ballo di Fiore (Caroso).
Click here for pdf previews of the music
.
Grade 1-2
£8 book
£6 pdf
LMP 074