Two Guitars : Spanish Sonatas transcribed by Duo Miric
Spanish Sonatas trans. by Duo Miric
music by Ferrer, Albero & Larrañaga for two guitars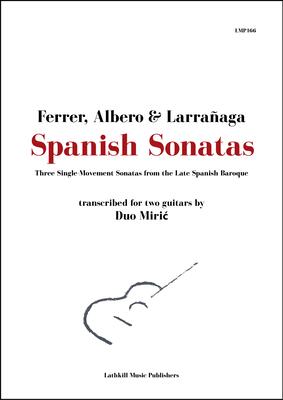 Three Single-Movement Sonatas from the Late Spanish Baroque transcribed by
Duo Mirić
that meld the influence and legacy of Scarlatti, the unrivalled king of the sonata, with the sensibilities and temperament of the Spanish to create something rather special.
The first,
Sonata in G minor by Ferrer
, has a brooding quality; the second,
Sonata no. 17 by Albero
, has an avant-garde approach to dissonance; and the third,
Sonata de 5 Tono by Larrañaga
, is an absolute riot to play, made even more exciting by the use of string 6 tuned to low C.
The transcriptions have been made so that each player gets an equal share of roles, and the many repeated phrases passed around provide much scope for creating contrast on stage.
All three sonatas are individually beautiful, but the collection has been carefully chosen with keys and speeds that work together so they can be played as a continuous work to form a "Spanish Sonata Suite" or a "mega sonata".
Duo Mirić
are twin sisters Darka Kooienga (née
Miri

ć
) and Tanja
Miri

ć
. They have been playing together for over two decades. Each holds a D.M.A. from the University of Minnesota, an M.M. from Southern Methodist University and a B.M. from Mississippi College. Notable concert appearances include the St. Louis Classical Guitar Great Artist Series, the Schubert Club Courtroom Concert Series, the Fort Worth Guitar Guild, and the Ensemble Showcase at the Guitar Foundation of America Convention.
8 page score with separate parts each 6 pages
Grade 7
£8 book
£6 pdf
LMP166