Two Guitars : Nadia Daniels
Thoughts of You by Nadia Daniels arr. Steve Marsh
for two guitars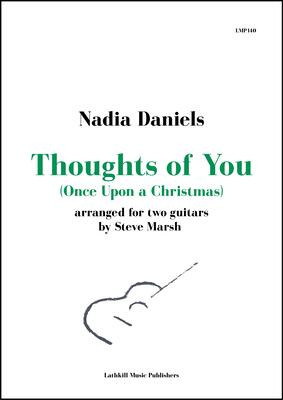 Thoughts of You was composed for piano towards the end of 2016 by Nadia Daniels.
It was written as a Christmas present (hence the sub-title) for her husband, Steve Marsh, who subsequently arranged the work for two guitars.
The composition is a very beautiful, melodic piece which works wonderfully well on two guitars and is ideally suitable for the Intermediate guitar duo.
At the age of 12, Nadia Daniels taught herself the classical guitar and later studied clarinet, recorder and piano at Trinity College of Music, London. Over the years she has been involved in various music groups including orchestras, choirs, recorder groups and chamber ensembles.
She has since studied classical guitar with Selena Madeley, Mark Ashford, Steve Marsh and Peter Katona and in 2016 she began playing the cello.
She regularly performs classical guitar duet concerts in partnership with Steve Marsh.
"It is a short but emotional piece that deserves to be heard and played, and two moderately good guitarists are all that is needed, as none of the writing is demanding; just a legato touch and an ability to bring out a good melody. This would make a great recital piece, or even an encore piece to close a set." - CLASSICAL GUITAR MAGAZINE
Grade 5
£7 (book)
£5 (pdf)
LMP140