Eleftheria Kotzia Series
Two Guitar Quartets by Jurg Kindle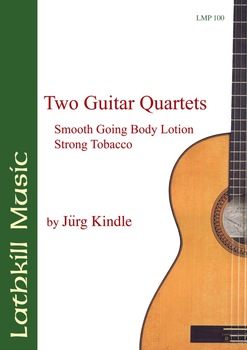 Two exciting and rhythmical new quartets from this excellent composer and released in the
Eleftheria Kotzia Series
.
Titles are
Smooth Going Body Lotion
and
Strong Tobacco
.
"Strong Tobacco is based on a Cuban rhythm 'La Comparsa, and the opening few bars will probably be where many quartets start tearing, their hair out - not with finger-wrenching chord shapes (for this is all, single-line music), but rather with the intracies of all playing and all, being silent at exactly the same time!
Smooth Going Body Lotion... is a joyous little piece based around a 3/3/2 pattern of quavers...this piece is a delight from start to end."
Classical Guitar Magazine
See the Catalogue entry
HERE
for sample PDFs
Grade 6
£8.95 (book)
£7.45 (pdf)
LMP100